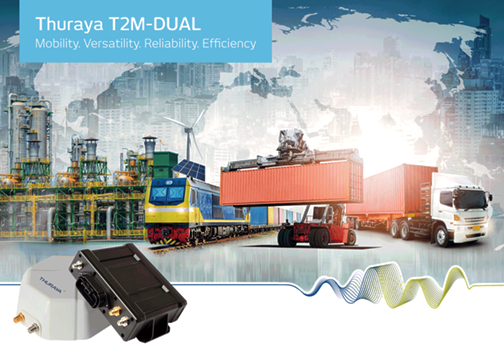 Thuraya Telecommunications Company, the mobile satellite services subsidiary of the Al Yah Satellite Communications Company (Yahsat), has unveiled their highly versatile T2M-DUAL IoT/M2M solution with enhanced capabilities.
Operating on both satellite M2M and cellular networks, Thuraya T2M-DUAL is a dual-mode tracking and monitoring solution with a wide choice of connectivity over satellite, including Satellite Messaging, GmPRS IP Data and Circuit Switched 9.6 data. It enables smarter, more streamlined and automated data capture from multiple sources, including fixed and mobile assets.
Thuraya T2M-DUAL brings ease of integration to applications that are traditionally more complex to monitor and manage. The terminal's system and interoperability make it a solution for large scale mobile operations in sectors such as transportation, government, energy and utilities, agri-tech, hydro environment and mining. Moreover, its automated network mode selection based on least cost routing ensures optimized connectivity and unrivaled total cost of ownership.
Thuraya T2M-DUAL provides three independent modes of operation. On tracker mode, it relays CANbus, GPS or I/O data from moving entities. When assets are fixed or deployed, the terminal can also be used in logger or modem mode to interface with data loggers to exchange vital information from remote sites. Launched in early 2018, the T2M-DUAL has generated a lot of customer interest due to its adaptability.
In addition to cost-controlled automated network selection, Thuraya has retained all the original features such as geo-fencing, internal battery backup, robust design, location and sensor data capture that have made it a firm market favorite. The T2M-DUAL — Thuraya's IoT/M2M portfolio consists of FT2225 and IP M2M service offerings that enable lite IP and high throughput applications respectively.
Thuraya's L-band satellite network does not suffer from high signal loss common to high frequencies, and is therefore less susceptible to disruptions, providing reliable services even in unstable weather conditions. Its low frequency range is ideal for IoT applications like fleet management, remote tracking and monitoring of mobile assets.
The L-band has a wider beam width and does not require a high-quality antenna with accurate directionality that is mandatory for higher bands. As a result, Thuraya's services are easier to process and require only low cost Radio Frequency (RF) equipment, culminating in major operational and financial savings.
Thuraya's Chief Commercial Officer, Shawkat Ahmed, said that for a terminal of its class, the company's T2M-DUAL does a lot. First, it can gauge and continually monitor events within and out of cellular networks. As a result, operators are able to make decisions and deployments seamlessly, amplifying operational efficiency. Second, it can help track and manage assets – fixed and mobile - across distances and borders, thus ensuring constant safety of persons and property. The company's data plans backed by the pooling option make the T2M-DUAL all the more attractive as users have to contend with only predictable costs. With the demand for multi-functional IoT solutions soaring, and the satellite IoT/M2M market tipped to reach $2.5 billion by 2023, Thuraya foresees excellent opportunities for such cost-effective, flexible solutions.