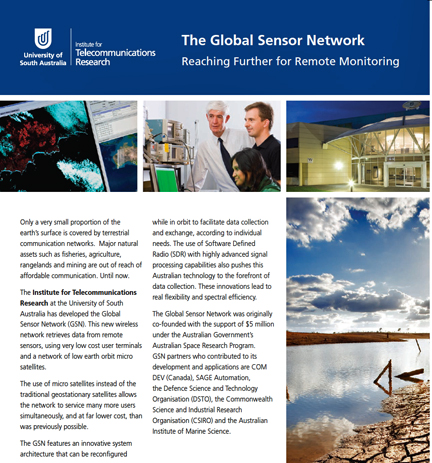 [SatNews] Against stiff competition, an Australian research institute has won an international award for technology innovation.
The University of South Australia's Institute for Telecommunications Research (ITR) has won Technology of the Year 2013 for its Global Sensor Network (GSN) and is now looking to commercialize the technology. The GSN won out over tough competition, specifically a communications system designed by NASA to be carried aboard the International Space Station. The award was presented recently at the SDR-WInnComm conference in Illinois, USA, a major annual gathering of wireless communications academics and industry leaders. The winning Global Sensor Network is a communications system that enables very low cost one- and two-way communication via low earth orbit satellites with very large numbers of remotely located sensors.
"This is a fantastic win for Australian innovation", said ITR Acting Director Jeff Kasparian. "The GSN is typical of what Australian research can achieve: taking a really great idea from a blank piece of paper through to a field-proven system inside the space of only 24 months. "Much of what goes on in remote areas has until now been unobserved and unknown. The GSN system opens up a whole new way of efficiently and cheaply monitoring, for example, sea temperature changes across vast areas, the exact location of thousands of individual animals on large outback properties, water levels along huge stretches of inlands waterways, or the position of fleets of ships at sea. The GSN also has applications in remotely controlling mining and drilling sites, and in national security and in defence. The GSN program represents a significant outcome, with contributions from 28 academics and engineers within ITR. I'm immensely proud of what our team has achieved."
GSN technical director, Dr. David Haley said the technology attracted attention from communications professionals because it includes new software defined radio (SDR)-based architectures and waveform designs that provide high spectral efficiency in heavily loaded multi-user scenarios.
For a backgrounder on the GSN's history, please visit http://www.itr.unisa.edu.au/projects/global-sensor-network
The infosite for the Institute for Telecommunications Research, Mawson Lakes Campus, University of South Australia, is located at http://http://www.itr.unisa.edu.au/
"SDR technology is used for the space segment, ground station and terminals. The end result is a cost effective, scalable and flexible system that is able to support very large numbers of users while maximizing the use of precious satellite frequency spectrum," Dave said.
ITR developed the key technology in the program and led a consortium, with partners including COM DEV (Canada) and SAGE Automation, CSIRO, DSTO and the Australian Institute of Marine Science. The Federal Government's Australian Space Research Program also provided funding assistance for the program.