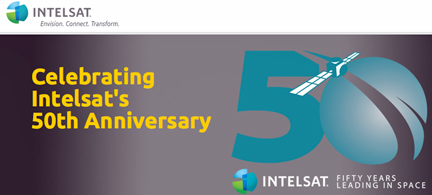 [SatNews] Intelsat S.A. (NYSE: I) has joined with partners BT Group Plc (NYSE: BT), Ericsson (NASDAQ: ERIC), Sony (NYSE: SNY) and Newtec to demonstrate the next iteration of a true 4K Ultra High Definition Television (4K UHDTV), end-to-end video transmission over satellite to the Las Vegas Convention Center in Las Vegas, Nevada during the 2014 NAB Show.
The demos will occur at Intelsat's booth located in the South Upper Hall, Booth SU3110 and Ericsson's Booth located at SU721.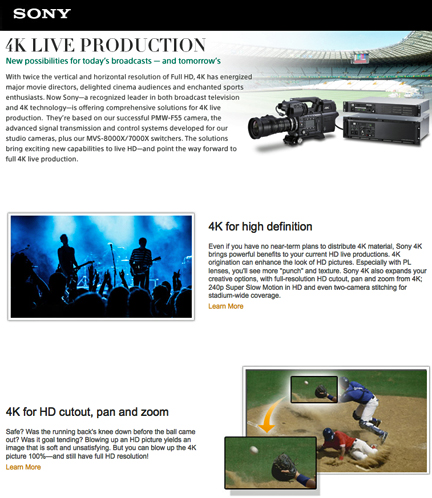 At NAB, Intelsat and its partners will demonstrate ecosystem readiness for the commercialization of 4K UHDTV, the sector's most exciting new technology. The team will conduct a live transmission of sports programming that was captured using Sony's PMW-F55 4K cameras, 4K production switcher and SR-R1000 recorder. Replayed pictures will be encoded using Ericsson AVP 2000 Contribution Encoders, capable of 4K UHDTV operations as well as standard- and high-definition contribution. The Ericsson Encoders will be encoding the four 3G-SDI feeds in real time. The demonstration will also take advantage of MPEG-4 AVC compression technology.
After the encoding process, the 4K signal will be transmitted as a 100Mbps video stream from BT Tower in London over the BT Global Media Network to Intelsat, via the Intelsat point of presence (PoP) in New York. The signal will be carried on the IntelsatOne(sm) terrestrial network to Intelsat's teleport in Riverside, California, where it will be uplinked to Galaxy 17, Intelsat's premier regional and league sports neighborhood in the United States, using Newtec modulation equipment.

The resulting 4:2:2, 10-bit, 4K UHDTV signal at 60 frames per second will be displayed in the Intelsat and Ericsson booths at NAB 2014. A down converted HD feed, derived in London, will also be displayed. This will further emphasize how production and distribution of exceptional quality 4K images can be achieved alongside existing HD services. Both streams are being transmitted from BT Tower over the same path.
"Intelsat distributes content for the world's most admired programmers, all of whom are looking at 4K and studying the technical and commercial considerations that will make 4K a compelling differentiator in a world filled with content," said Peter Ostapiuk, Intelsat's vice president of media product management. "Intelsat and the rest of our technical team are pushing to capture gains in compression technology, and as part of our testing, we determined that a multiplex 4K feed and a down-converted HD feed could be transmitted over a 36MHz transponder utilizing DVB-S2X technology. By doing so, it will provide programmers with a commercial, off-the-shelf solution where they will be able to offer 4K content in a much more efficient manner, while at the same time maintain the breathtaking quality of the content for an immersive viewing experience."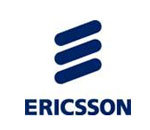 "Showcases such as these are a testament to the importance of compression technologies in delivering 'true' 4K UHDTV services to the home," said Dr. Giles Wilson, head of TV compression at Ericsson. "The combination of the higher spatial resolution, 4:2:2, 10-bit color depth and higher frame rates at 60 frames per second is the key to capturing a truly immersive viewing experience and high quality service that consumers expect and demand. As the living room moves towards a fully cinematic experience, 'true' 4K UHDTV video will enable a new premium tier of programming which will permanently change the way we watch content."
"Canned 4K demos have had their day," said Mark Wilson-Dunn, vice president of BT Media and Broadcast. "At NAB, our team is demonstrating real content, broadcast internationally over a real network, using real technology. The demonstration is leveraging our world leading Global Media IP Network for the project, and in the initial live broadcast its fiber based outside broadcast network. "BT's Global Media Network was designed from the outset for live broadcast and big media files, so it just takes 4K in its stride."
Katsunori Yamanouchi, vice president, Sony Professional Solutions Europe, said, "In the last year, we've taken part in many landmark events around 4K live production and this next event will continue to build the momentum. With our unique track record for innovation, Sony remains the natural choice for an event of this kind."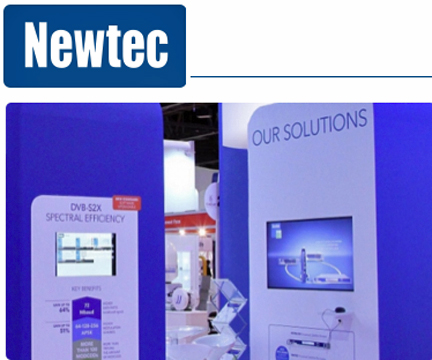 "Satellite transmission has always been the preferred technology facilitating the adoption of new video standards such as High Definition, and today, Ultra HD," said Steven Soenens, vice president product management at Newtec. "I'm delighted to see the new DVB-S2X technology—just released by DVB in February 2014—already in action on our products and on a live satellite network. In this setup, we've transmitted 100Mbps Ultra HD content over a standard 36MHz transponder using 16APSK 3/4 5 percent. Typical contribution and distribution networks will benefit from a 10 to 20 percent efficiency increase using the new DVB-S2X standard."
The Intelsat infosite is located at http://www.intelsat.com/
For further details on Sony's 4K offerings, please access this direct link.
Additional information regarding BT Global Media Network is available at http://www.globalservices.bt.com/
Please visit http://www.ericsson.com/ for additional information regarding Ericsson.
Information regarding Newtec's DVB-S2X technology is available at this direct link.