[SatNews] Airbus Defence and Space has launched XChange v3, the latest evolution of its XChange communications platform, which is set to further improve the flow of operational data between ship and shore through sophisticated voice and connectivity service management.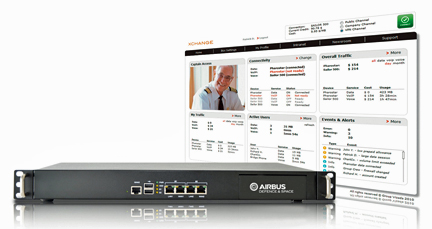 XChange is an all-in-one solution to manage communications services in an easy and intuitive way. It gives more control with less operational overhead while on board administrative tasks can also be out-sourced to onshore offices. It is fully integrated with Airbus Defence and Space's leading Pharostar (entry and premium) services and v3 makes VSAT (Very Small Aperture Terminal) voice and data management even more intuitive. Improved features include an ability to flexibly prioritize traffic, in order to give corporate traffic priority over crew traffic, thereby securing delivery of critical data.
"Combining XChange with our Pharostar VSAT delivers the most complete and efficient IT and communications solution for global shipping companies available today. It is fully focused on giving more flexibility and saving money for the ship owner through enhanced management of crew and voice data usage. The latest upgrades secure its position as the leading choice for efficient communication at sea," said Tore Morten Olsen, Head of Maritime activities within Airbus Defence and Space.
This new solution now boasts full VSAT and MSS compatibility. Being fully compatible with the largest range of VSAT terminals means that shipping companies can use the antenna system available on board and simply integrate XChange as the optimal network management device. As a single, powerful device offering complete connectivity control, regardless of a vessel's existing network configuration, it enables easy, reliable access to the preferred SATCOMs connection. It only takes a few minutes to configure XChange v3 to enable access to the innovative new features it offers.
Voice functionality has also been significantly enhanced with this new version, with the choice of VSAT voice and up to three MSS optimized voice connections. Available lines are automatically selected for more convenience. It equally improves network access for end-users. Crew members benefit from a single account with an automatically remembered login for data and telephone services on their individual devices. All data and voice costs can be charged to each crew member's account.
The Airbus Defence & Space infosite is located at http://airbusdefenceandspace.com/