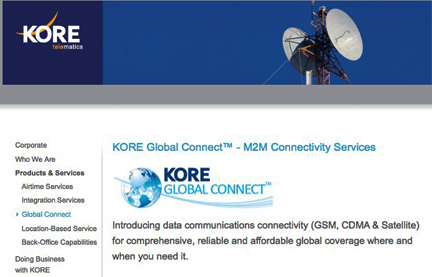 [SatNews] KORE M2M Systems Group has deployed an M2M service management platform for Singapore's StarHub, which in turn provides M2M services to enterprises, service providers and developers.
The feature-rich platform from KORE will be locally hosted and fully integrated with StarHub's mobile network and business systems that ensures StarHub customer's data privacy is fully protected. The introduction of the customized StarHub-branded M2M portal is one of a series of initiatives undertaken by StarHub to advance its M2M solutions and to offer creative pricing packages designed specifically to meet the needs of various M2M applications and business models. Through the platform, StarHub also offer end-to-end solutions such as fleet and asset management and IP surveillance solutions, and starter kits to developers to test new devices and build new applications.
KORE is providing StarHub with a robust business management platform for controlling all aspects of a connected device's lifecycle from StarHub's M2M SIM ordering to SIM provisioning and SIM states to network usage, billing and troubleshooting. Through tight integration with existing mobile network elements and business systems, StarHub is able to provide differentiated services to service providers, enterprises and developers while at the same time, automating major business processes in order to speed up and minimize the cost of delivering and supporting M2M services.
Further details are available at the KORE infosite located at http://www.koretelematics.com/