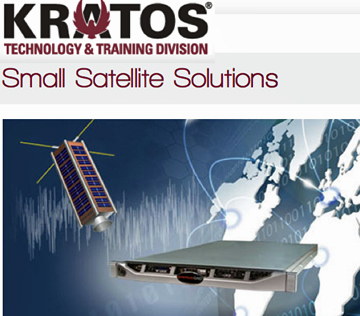 [SatNews] Kratos Defense & Security Solutions, Inc. (Nasdaq:KTOS) introduces quantumGND, the first complete C2 to RF ground systems package specifically designed to meet the unique requirements of the smallsat community.
Pre-integrated, affordable and easy-to-use, quantumGND is a full-function, out-of-the box ground system solution for small satellites. Including everything from the C2 system through the ground network and ground modem, quantumGND lets operators focus on their mission and payload instead of building their own C2 and RF signal processing capabilities.
quantumGND is comprised of three pre-integrated components. quantumCMD provides C2 for a single small satellite up to a smallsat fleet. qFEP and qRADIO (manufactured by Kratos subsidiary RT Logic) provide the baseband processing functions required between the C2 system and the antenna. Together, these components deliver a virtual machine architecture that features plug-and-play design for simplified setup, automation tools for lights-out operation and complete situational awareness in one dashboard. While designed to bring maximum value as a turnkey system, quantumGND's modular components can be purchased separately by small satellite operators with existing C2 or RF ground system elements.

quantumGND will be demonstrated at the Small Satellite Conference in Logan Utah, August 8th through 13th, 2015, in booth #35/36.
Executive Comments
"Like large, traditional satellites, smallsats require command and control software, data processing, networking and RF signal processing. What they don't necessarily require is the same degree of complexity and added cost of traditional ground systems designed for large satellites," said Matt Prechtel, Business Area Director for Small Satellites. "Leveraging Kratos' extensive experience in RF signal processing and command and control, quantumGND is modular and extensible, a ready to use ground system solution for small satellites."
"The growth of the smallsat industry is being driven by advances in design, manufacturing and launch technologies that have reduced satellite size, production time and launch costs by orders of magnitude. quantumGND brings the same cost and time reductions to small sat C2 and RF signal processing," said Stuart Daughtridge, Vice President of Advanced Technologies at Kratos.
For more information about quantumGND visit