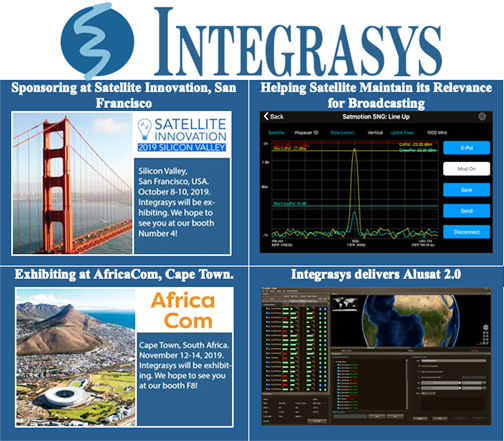 During the upcoming Satellite Innovation industry event in Silicon Valley, California, starting on October 8 and running through October 10, Integrasys will be presenting their new products and capabilities to attendees. Integrasys will also be participating at AfricaCom 2019.
On the show floor at Booth 4, the company will offer insights into their Beam Budget and Satmotion API (OTC). The firm's CEO, Alvaro Sanchez, will also be participating in the "Breakthroughs for Ground Systems" panel discussion on October 10 from 11:00 a.m. to 12:00 p.m.
The firm's easy, auto-commissioning Satmotion and straightforward maintenance product, Alusat, will also be on display.

To attend Satellite Innovation, access this direct registration link...