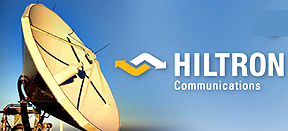 Senior management from Hiltron Communications are heading to Las Vegas for the April 7-12 NAB Show and its parallel conference.
Held at the 2 million square foot Las Vegas Convention Center, this year NAB is expected to attract more than 100,000 attendees from the broadcast, telecommunications and wider electronic-media sectors around the world.
Hiltron Managing Director Antonio Monteverde said that the company's business activity in the Americas is growing rapidly, thanks in good measure to business links established at events such as NAB. In the firm's role as a SATCOM systems integrator, the company has completed successful projects with many U.S.-based companies for customers around the world. Hiltron is now active on a global satellite monitoring system for installation at sites in the USA, Latin America and again in South America.
Antonio continued that as well as meeting with existing and potential customers, Hiltron will be talking to many of their key suppliers whose products are often selected by the Hiltron engineering team for integration into systems of the firm's own design. Examples include satellite Earth stations, terrestrial network head-ends and news-gathering vehicles. Also being promoting will be Hiltron-manufactured solutions, such as automatically steered antenna mounts, antenna de-icers, monitoring and control software. Among these offerings is our flagship HSACU control unit which is designed for use with three-axis motorized antennas, such as the 4.9 meter dish-capacity Super-HMAM.