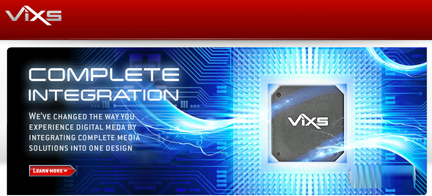 [SatNews] ViXS Systems Inc. (TSX:VXS) has announced that Envivio will employ the ViXS XCode 6400 System-on-Chip (SoC) as a set-top box (STB) client to decode and display Ultra HD (UHD) 4Kp60 content, encoded in High Efficiency Video Coding (HEVC) MAIN10 Profile by the Envivio Muse(tm) encoder, in the Envivio booth #SU6202 at NAB 2014 in Las Vegas.
The ViXS XCode 6400 SoC is used for this demonstration as an UHD 4K set-top box (STB) to decode and display UHD 4K broadcast content compressed by the Envivio Muse encoder. This system architecture replicates a typical broadcast solution using an encoder in the headend to deliver compressed video to the home STB. As UHD 4K growth accelerates, the need for an end-to-end solution becomes increasingly critical to service providers looking to deploy the stunning picture quality that UHD 4K creates.

"Envivio is excited to demonstrate Ultra HD and HEVC on our Muse encoders, and we wanted a partner whose technology could showcase the premium quality of our compression technology," said Jean-Pierre Henot, CTO, Envivio. "ViXS is a leading provider of media processing silicon and has the first commercially available SoC that supports UHD 4Kp60 and 10-bit HEVC."
"ViXS is pleased to partner with Envivio, one of the leading providers of broadcast quality encoders, to demonstrate a deployment-ready solution for Ultra HD," said Sally Daub, President and CEO, ViXS Systems Inc. "The XCode 6400 is clearly in a leadership position as the broadcast industry transitions to 10-bit HEVC and UHD, and we look forward to market launch of our media processing solutions across the content distribution value chain."
ViXS will demonstrate the XCode 6400 and other broadcast technology products in Suite D4107-109 in the Las Vegas Hilton Hotel.
More information regarding Envivio is available at http://www.envivio.rsvp1.com/
Additiona ViXS information is readily available at http://www.vixs.com/