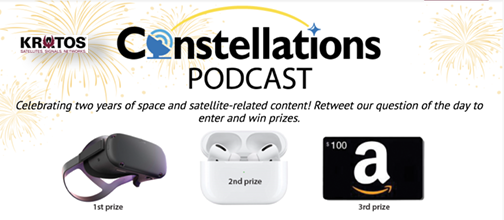 Constellations, the satellite and space podcast from Kratos, is celebrating its two year anniversary with an opportunity for listeners to win a VR headset, Apple Airpods Pro or a $100 Amazon gift card.
During the past two years, Constellations has featured some of the best and brightest in the space and satellite industries, from established players such as Lockheed Martin, SES Government Solutions and Boeing to innovative upstarts like Capricorn Space, Phase Four, Blue Sky Network and many others. Constellations has also featured key industry consultants including Euroconsult and Northern Sky Research (NSR) as well as industry associations such as the Satellite Industry Association and the new Space ISAC.
A sampling of recent guests illustrates the breadth of topics discussed on Constellations:
The Space ISAC, Cybersecurity and Innovation, Erin Miller, Director, Business Development, The National Cybersecurity Center

The Emerging Ground-Segment-as-a-Service, Mark Thompson, CEO and Chief Engineer, Capricorn Space

Forecast for the Future, Pacôme Révillon, Chief Executive Officer, Euroconsult

Plasma Satellite Propulsion, Beau Jarvis, CEO, Phase Four
Constellations has received positive feedback from many guests including this from Chad Anderson, CEO, Space Angels, who said thanks to Kratos for putting together an excellent podcast. He enjoyed the conversation about investment and startup activity in space and looks forward to future episodes that interviews these innovative, new, industry leaders.
Barry Matsumori, CEO, BridgeComm, added that the Constellations Podcast series by Kratos has done an outstanding job of being informative and entertaining. Congratulations on that. The ability to discuss optical wireless communications in a fast moving format that covers details is great. John Gilroy and he had a stellar time talking.
Produced by Kratos, which describes Constellations as a forum for people in the space industry — and those intrigued by it — to learn from experts as they share their insights, experiences, expectations and hopes for the future. Constellations looks for topics of interest to their listeners and suggestions for guests at Podcast@KratosComms.com.
To win one of the aforementioned prizes, please access this direct infolink...