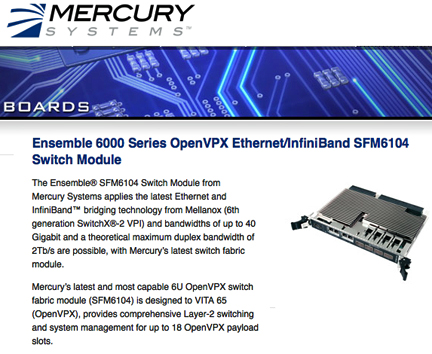 [SatNews] Mercury Systems, Inc. (NASDAQ: MRCY) has announced the new Ensemble® SFM6104 Switch Fabric Module with enhanced InfiniBand® and 40 Gigabit Ethernet capability for embedded, state-of-the-art sensor chain compute solutions.
Designed to work seamlessly with Mercury's advanced I/O, processing and OpenVPX™ development chassis offerings, the new module supports either SDR/DDR/QDR/FDR-10 InfiniBand or 10/40 Gigabit Ethernet across the data plane and Gigabit Ethernet on the control plane. As with all of Mercury's open systems architecture (OSA) products, the SFM6104 conforms to VITA 65 (OpenVPX), the embedded computing industry's open architecture standard.
"Mercury has a long tradition of championing open architectures, while leveraging the best commercial-item high performance computing (HPC) technology for use in rugged embedded applications such as advanced signal processing, including radar and image processing," said Leon Woo, Mercury Systems' Vice President of Engineering. "Our new SFM6104 module is an industry-standard compliant building block that delivers data center-level performance across the latest generation of InfiniBand and Ethernet switch fabrics. When you couple it with our Intel® Xeon®-powered processor modules, the native Quick Path Interconnect (QPI) and PCIe Gen 3 wideband capability is continued beyond the processor module to the switch fabric. You get the most powerful and scalable commercial-item HPC technology that can be deployed on rugged sensor platforms, providing true data center-level capability and performance for harsh environments."
The SFM6104 uses Mellanox's latest SwitchX®-2 technology to perform complex switch fabric bridging.
"Mellanox has worked closely with Mercury Systems to integrate our industrial temperature-grade silicon and develop a hardened, high-performance solution that provides their customers with leading application performance, fast data processing and meets their rugged environment requirements," said Gilad Shainer, Vice President of Marketing at Mellanox Technologies. "By taking advantage of Mellanox's SwitchX-2 Virtual Protocol Interconnect®-based switching solution with InfiniBand and Ethernet on the same device, Mercury's customers gain data center-level performance and the flexibility to choose the optimal switch fabric for their applications."
Mercury's customers can now expedite the development of advanced systems by using the company's OpenVPX development chassis. Populated with Intel Xeon server-class processing modules and SFM6104-enabled InfiniBand and Ethernet switch fabrics, a fully functional sensor signal processing and data center ecosystem can be quickly created within a rugged OpenVPX format. As with all Mercury products, the SFM6104 can be seamlessly integrated with other building blocks by Mercury's Services and Systems Integration (SSI) group to create affordable sensor processing subsystems that fulfill complex application-specific requirements and efficient subsystem upgrades.
For detailed specifications and general product information, visit http://www.mrcy.com/SFM6104.