[Satnews] More than 200 companies will display the latest in leading edge technology at Aerospace Electrical Systems Expo Europe and Space Tech Expo Europe at Messe Bremen, Bremen, Germany this month, and will run from November 17 through 19, co-located with Aerospace Electrical Systems Expo Europe.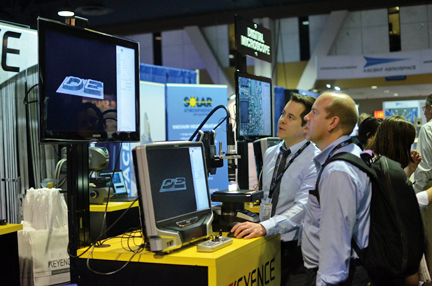 Hardware spans an eclectic range from antennas, including Haigh-Farr's world leading integrated antenna products for space applications, to the high-end ImageIR infra-red camera series from Infratec and the Infineon/IR MOSFETs and DC/DC converters exhibited by Kamaka.

DLR, the German Aerospace Centre, aims to launch its Berlin Infrared Optical System (BIROS) microsatellite for forest fire detection in 2016, while Part-Time Scientists will give visitors an insight into their planned moon mission, as well as promising a completely new product category for the first time.

The brand new DEWESoft Power Analyser measures the power of an aircraft electrical system at multiple points, along with parameters such as vibration, temperature and strain, for comprehensive data acquisition and analysis using just one instrument.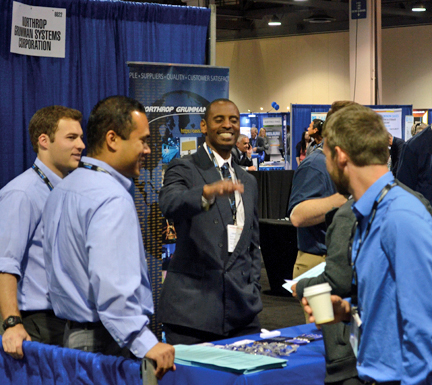 Software of every kind is fundamental to modern aerospace, and OCE Technology's Dmon2 second-generation debug software tool, developed in cooperation with the European Space Agency, significantly reduces system-on-chip system and software debug costs.

Astro-Med is launching Daxus, a new data acquisition system for distributed networking that enables engineers to view real-time data via both PC and mobile applications.

And seamless software and FPGA integration, including Linux API, FPGA infrastructure and partial reconfiguration management, is enabled by Dyplo, a distributed, robust and fail-safe embedded infrastructure from Topic Embedded Products.

Hardly anything happens in aerospace without a whole lot of testing, so the Testing Zone complements the two expos with a comprehensive array of test systems and solutions.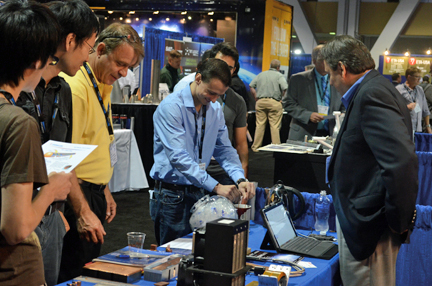 Marvin Test Solutions' new GX5296 digital subsystem, with its sub-nanosecond edge-placement resolution and PMU per pin capabilities, enables customers to configure a system with up to 512 channels within a single, compact PXI chassis for component, board, or system level test.

Müller-BBM VibroAkustik Systeme will demonstrate its new PAK acs intelligent acoustic control and noise excitation solution, said to make the configuration, setup, control and monitoring of measured channels of acoustic control testing faster and easier than ever.

Pacific Power Source will display its precision programmable AC power sources for avionics test applications using linear technology, while the PowerBridge hardware-in-the-loop test stations feature the latest embedded technology with state-of-the-art high-speed links and a complete IO portfolio for any conceivable test scenario.

AOS Technologies will show the MIL-STD-810F certified high-speed, 3 megapixel Q-MIZE EM, the first camera in the market to comply with the newly established data format under IRIG-106 Chapter 10 and the IRIG ANCS communication standard.

Advantec Engineering supports environmental and maturity testing such as environmental qualification, lightning effects, HALT and HASS tests, enabling manufacturers and operators to achieve significant reliability improvement and cost-saving.

inTEST Thermal Solutions will display the ECO Series ThermoStream, an environmentally friendly temperature forcing system with fast transitions from -80 to 225 degrees Celsius, for effective testing and conditioning of electronic components, boards and modules.

CBL Electronics will launch Dream Test, a software solution dedicated to automatic test equipment (ATE) that uses an abstraction layer to group the instruments by type and drive them using a set of generic functions.

Karl Storz Industrial Group will present the latest generation of measuring and documentation systems for the remote visual inspection market, including the newest addition to its TECHNO PACK range.

And yet another test capability comes from Oros, whose latest generation of instruments, the Teamwork range, offers flexible and productive solutions for large structures tests.

The two forums take place alongside 200-plus exhibiting suppliers on the show floor at Space Tech Expo and the co-located Aerospace Electrical Systems Expo at Messe Bremen, 17-19 November. Registration is free and include access to the hall and all speaker sessions - register online for a press pass today.

The full exhibitor list can be found online.