Kubos has released their Major Tom platform, a cloud-based mission control software system designed to simplify and streamline the operations of small spacecraft.
As a complement to the recently released, open-source KubOS 1.0 operating system, Major Tom provides an unparalleled user experience for the spacecraft operator. The ground control software includes a customizable dashboard that displays spacecraft telemetry, a manageable job queue, file upload and download, direct shell access, and customized controls that are most important to each mission and it's operator. The cloud-based system is compatible with a range of ground station network providers, and can also run on-premise, integrated with a range of COTS ground station solutions.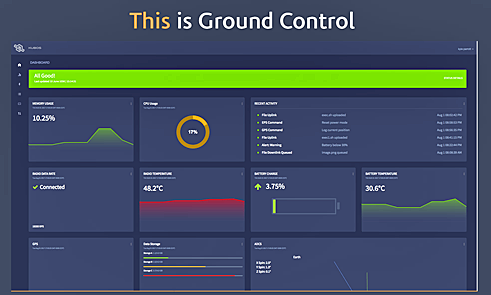 Major Tom is positioned to redefine mission operations in the smallsat industry. By incorporating Major Tom during satellite development, teams can use the same tools, workflow, and processes during both operations and development. With one software solution, engineers can be easily cross-trained which drastically lower costs and increased efficiency. With the addition of the Major Tom ground control solution, Kubos now offers a complete software suite that provides end-to-end mission support for smallsat programs and constellations of any size.
Visit the Kubos team at the Small Satellite Conference this week in Logan, Utah. Click here to schedule a demo during the conference, or you can sign up to receive a demo online by visiting the Kubos website. http://www.kubos.com/majortom/.

Marshall Culpepper, the CEO of Kubos, reported that his company is creating a world where a small satellite can be operated from a web browser or iPhone. Finally, spacecraft operations software has caught up with the 21st century.