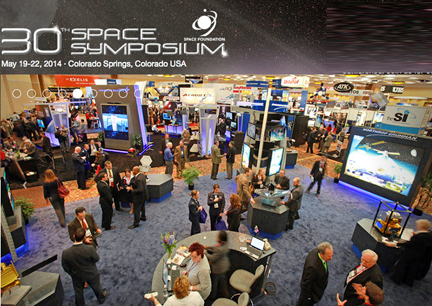 [SatNews] The leaders of five of the world's space agencies will be featured speakers at this year's 30th Space Symposium, to be held May 19-22 at the five-star, five-diamond Broadmoor Hotel in Colorado Springs, Colo., USA.
The Thursday morning panel "Space Agency Leaders" will feature:
Charles F. Bolden, Jr. (Major General, USMC, Ret.), Administrator, National Aeronautics and Space Administration (NASA) USA
Walter J. Natynczyk (General, CF, Ret.), President, Canadian Space Agency
Ger Nieuwpoort, Ph.D., Director, Netherlands Space Office
David Parker, Ph.D., Chief Executive Officer, United Kingdom Space Agency
Marius-Ioan Piso, Ph.D., President and Chief Executive Officer, Romanian Space Agency (ROSA)
The panel will be moderated by Yasushi Horikawa, Ph.D., Chairman, United Nations Committee on the Peaceful Uses of Outer Space.
More than 20 countries will be represented at this year's 30th Space Symposium, with panel discussions of the most pressing global space issues, and a roster of leading decision makers as featured speakers.
Other Symposium panels and sessions of special interest include:
"MilSpace and International Collaboration: Partnering for Collective Security"
"International Collaboration: The Industry Looks Globally"
"Space Development in the Americas: Region in Focus"
See the complete agenda and list of speakers at http://www.SpaceSymposium.org/.
The Space Symposium will attract more than 9,000 participants, and feature exhibits of the world's latest space technology and services. To honor its global guests, the Space Foundation will host a by-invitation international reception on Wednesday, May 21, providing an opportunity for additional networking.
A discount is currently available on standard industry registration, if paid by April 25, 2014. The Space Symposium website provides information in 71 languages, and includes the complete agenda and speakers list, plus registration information. Visit http://www.SpaceSymposium.org/.