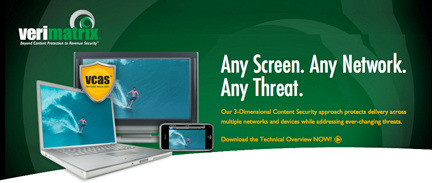 [SatNews] The Verimatrix team will be present at this important event to illustrate how its flagship, award winning Video Content Authority System (VCAS(tm)) solutions address the evolving challenges of complex pay-TV and hybrid video services. VCAS offers a scalable video security architecture, featuring harmonized rights management for multi-network service delivery, in booth SU9505.

TV Connect logo—The following demonstrations will be offered to illustrate the latest VCAS functionality:
Verimatrix powerful cardless security integrated with TiVo services, featuring TiVo's hybrid PVR and a range of tablet applications secured by VCAS for Broadcast-Hybrid. With a broadcast QAM/Multicast IP plus OTT video architecture, the deployment emphasizes the VCAS "single security" approach across STB/PVR and CE devices.
Verimatrix integrated DVB-Hybrid VCAS security solutions, unifying broadcast TV with state-of-the-art adaptive bitrate streaming (ABR) video for one-way and connected STBs and CE devices including PCs, tablets and smart phones.
The award winning Verimatrix Internet TV solutions, supporting HLS and DASH ABR streaming and featuring download and offline playback functionality, demonstrated in conjunction with player partners across PC, Android and iOS platforms.
Don't miss the session "Does OTT Lead to Virtual MSOs and Virtual Set-Top-Boxes?" that occurs on Monday, April 7, from 10:00 a.m. to 12:00 p.m. in LVCC, room S224. Chief Sales & Marketing Officer Steve Oetegenn, Verimatrix, and panelists from ABC Entertainment, Harmonic, RGB Networks and Channel Islands, will discuss the impact of OTT business models on video distribution. The panel is moderated by Stefan Jenzowsky, Vice President, Head of Media Business, Siemens Convergence Creators. Topics:
Is OTT distribution disruptive to regular television delivery?
Will OTT technologies like adaptive streaming and virtual STBs lead to virtual MSOs?
Will content owners go B2C? And how will the established players react?
Chief Technology Officer Petr Peterka, Verimatrix, will present a session entitled "The Evolution of Security in the Connected World" on Thursday, April 10, at 10:00 a.m. in room S227 as part of the Broadcast Engineering Conference. During his session, Peterka will explore will explore multi-network and multi-device security models, and detail possible responses to potential piracy. He will also summarize MovieLabs' Specifications for Next Generation Video and Enhanced Content Protection and explore why UHD content presents new challenges to revenue security.
For further information regarding Verimatrix, please visit