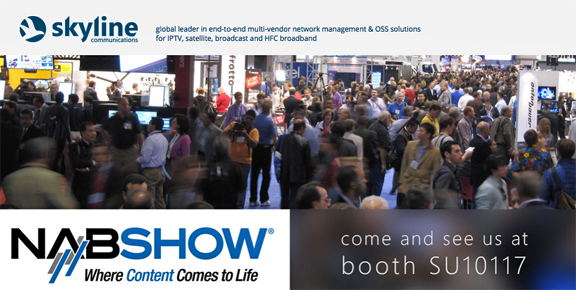 [SatNews] Skyline Communications will be showcasing the latest release of their flagship DataMiner network management platform at NABSHOW, from April 13 through 16, in booth SU10117.
The company will also be highlighting some of its cutting-edge solutions, which include

end-to-end management of media networks in a hybrid world of fiber, satellite and cloud
Today's media networks are built using a complex mixture of fast-evolving technologies, such as MPLS, SDH, satellite, VSAT, and compression and media processing in the cloud. Hardware and software elements are sourced from a variety of specialized vendors. But in order to remain competitive, operators need to establish unified and highly automated workflows, end to end, across any vendor and technology boundaries. Visit the company's booth to experience how DataMiner, deployed by leading broadcasters, service providers and broadcast unions, takes care of your entire infrastructure, services, SLAs and unified media workflows.
confidence monitoring
Monetizing content starts with providing an impeccable service experience to the consumer. QoS/QoE checks and confidence monitoring of video, audio and metadata are implemented throughout the media chain, from content capture and contribution, in the studio and playout, up to delivery to the consumer. Attendees can see how confidence monitoring and SLA reporting are embedded in DataMiner 8.5, supporting a breadth of monitoring probes, analyzers and multi-viewers.

multi-screen video processing with legacy equipment as well as virtualized in the cloud
Multi-screen media preparation and transmission has become the de-facto standard for broadcasters and service providers. Operators are challenged by the vast number of services, profiles and playback devices in their network, not only for linear viewing but also for time-shifted experiences. The breadth of processing is often done by a multitude of different compression and transmission systems. Economics and increased business agility needs drive an increasing number of processing functions into the cloud, virtualized. At the booth, learn how DataMiner manages services, legacy infrastructure and cloud infrastructure from multiple vendors as one single consolidated system.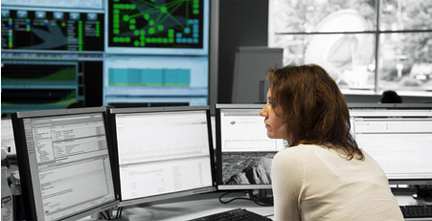 dataminer 8.5—when logic meets magic
DataMiner 8.5 again brings a wealth of features and enhancements across all existing software modules, making the solution even more intuitive and more powerful. However, DataMiner 8.5 also introduces some significant new innovative capabilities. It is one of the most versatile platforms, proven in superior management for studios, playout facilities, satellite and terrestrial contribution platforms, VSAT and IP trunking systems, IP networks, VOD platforms, ad-insertion systems, digital video head ends, outdoor networks, backbones, terrestrial transmitter networks, SNG fleets, and much more.