[SatNews] Orbital Sciences Corporation (NYSE: ORB) has announced that NASA has awarded the company a contract to launch the Cyclone Global Navigation Satellite System (CYGNSS) multi-satellite mission aboard a Pegasus XL rocket carried aloft by Orbital's "Stargazer" L-1011 aircraft—the CYGNSS mission is scheduled to launch in October 2016 from Cape Canaveral Air Force Station in Florida.
"Pegasus has been the workhorse of the small-class launch market for reliable missions to orbit for more than two decades, with its last 28 consecutive missions fully successful over a 16-year period," said Mr. Ron Grabe, Orbital's Executive Vice President and General Manager of the Launch Systems Group. "With this new Pegasus contract, Orbital will continue its long-standing support of NASA science missions, providing our flagship rocket to launch another important mission for the global science community."
CYGNSS will produce measurements of ocean surface winds throughout the life cycle of tropical storms and hurricanes, which could help lead to better forecasting of severe weather on Earth. The mission, led by the University of Michigan, will use a constellation of eight small satellites that will be carried to orbit on the Pegasus launch vehicle. CYGNSS' micro-satellite observatories will receive direct and reflected signals from Global Positioning System (GPS) satellites. CYGNSS is the first award for space-based investigations in the Earth Venture-class series of rapidly developed, cost-constrained projects for NASA's Earth Science Division. NASA's Langley Research Center, Hampton, VA, manages the Earth System Science Pathfinder program for NASA's Science Mission Directorate.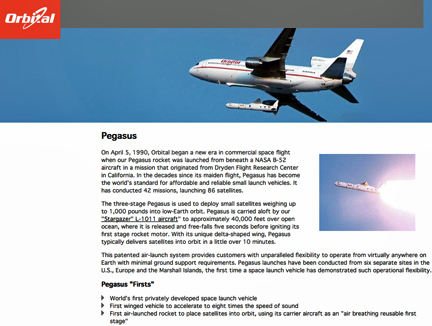 Pegasus is the world's leading launch system for the deployment of small satellites into Low-Earth-Orbit (LEO). Its patented air-launch system, in which the rocket is launched from beneath Orbital's "Stargazer" L-1011 carrier aircraft over the ocean, reduces cost and provides customers with unparalleled flexibility to operate from virtually anywhere on Earth with minimal ground support requirements. The CYGNSS mission will be the 43rd Pegasus space launch since its introduction in 1990, and will mark a total of 93 satellites launched by the rocket. It remains the world's only small space launch vehicle that is certified to NASA's Payload Risk Category 3, which the space agency reserves for its highest-value space missions.
For additional details regarding Orbital Sciences, their infosite is located at http://www.orbital.com/
For further information regarding Orbital's Pegasus launch vehicle, please visit http://www.orbital.com/LaunchSystems/SpaceLaunchVehicles/Pegasus/