[SatNews] ...show broadcasters how to deliver content with simplicity using its customizable web-scheduling portal.
ONE CONNXT, announced today that ONE CONNXT is unveiling a new strategy for the Americas during NAB.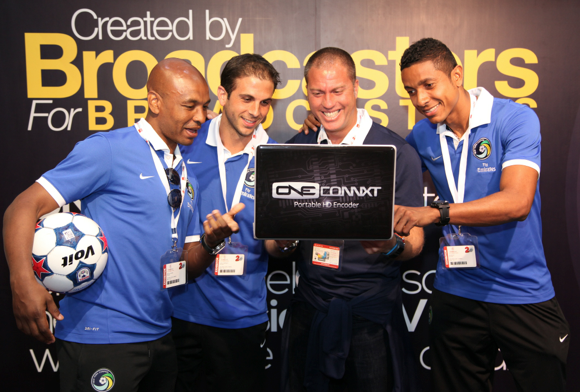 ONE CONNXT has enjoyed an increased interest abroad recently, including transport for Japan's J2 soccer league from Tokyo to Singapore for worldwide distribution, the SAFF Championship in Nepal and 24x7 transcontinental transport of Real Madrid TV to Bangkok, Thailand. "Next up are the 2014 AFC Challenge Cup matches from the Maldives, the 13th AFC Futsal Championship matches from Ho Chi Minh City, Vietnam and select Yomiuri Giants games to ONE World Sports in the U.S.," said Almstead. "These recent successes include our portable encoding solution which was on display at CABSAT in Dubai with the NASL Champion New York Cosmos ."
ONE CONNXT is also undertaking the first steps in its strategy for the Americas announcing alliances with Why Complain Media (Canada) and CSTN Ltd, Trinidad for sales representation in the Americas and the Caribbean. Dave Almstead said, "We are proud to be expanding our sales efforts and presence in this hemisphere. Our new alliances will continue to broaden ONE CONNXT's growing global, 'on-the-ground' sales and marketing efforts. I am pleased to be working with Don Gaudet and Paul Girouard from Why Complain Media and Selby Browne from CSTN."
Canadian broadcast veteran Don Gaudet, principal at Why Complain Media, stated "We are enthusiastic about our new relationship with ONE CONNXT. ONE CONNXT's broadcast video transport service continues to receive amazing reviews from all who use it. By implementing ONE CONNXT's broadcast solutions, high-quality broadcast video can be delivered at a very efficient price point."
ONE CONNXT demos at NAB will show broadcasters how to deliver content with simplicity using its customizable web-scheduling portal. Designed to meet or exceed broadcast standards, ONE CONNXT's proprietary conditional access system creates throughput optimization that cleans up Internet connections and ensures global reach. Unlike most other systems, ONE CONNXT offers quality and reliability comparable to traditional broadcast at a much lower cost. Additionally, ONE CONNXT cloud services provide broadcasters greater flexibility with a video storage system that allows regional time shifting with anytime playback capability.
NAB Show is the world's largest electronic media show covering filmed entertainment and the development, management and delivery of content across all mediums.

You can see ONE CONNXT in action during NAB in Hall South Upper, Booth 12326, April 7-10, 2014.