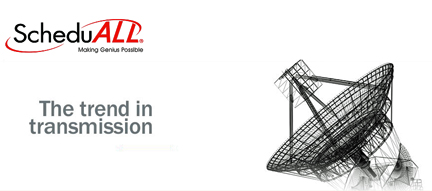 [SatNews] At the upcoming SATCON event in New York, ScheduALL will be featuring their Self-Provisioning Power.
On display will be their...
LINK™
The company's transmission solution for advanced management of satellite and fiber inventories. LINK uses sophisticated logic checks to avoid multi-parameter conflicts, technical mismatches, and double bookings.

ScheduALL Portal™
The company's intuitive, web-based platform provides a simple way for consumers to book Occasional Use transmission feeds online in real-time, minimizing "spoilage" and maximizing utilization of capacity.
ScheduALL Connector™
This global network of consumers and providers enables trading and selling across the broadcast and transmission industries, and boosts resource and inventory sharing within enterprises.

ScheduALL will be on point on booth #429. SATCON is held from November 12th through the 13th at the Javits Convention Center in New York, New York.
The ScheduALL infosite may be accessed at http://www.scheduall.com/