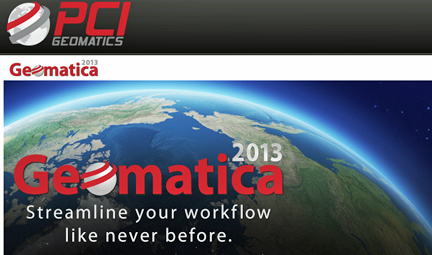 [SatNews] PCI Geomatics, a world leading developer of geo-imaging software and systems, will be exhibiting and speaking at the upcoming GISWORX conference in Dubai, from April 14-18—the Conference offers hundreds of GIS user presentations, technical workshops and User Group Meetings.

The GISWORX event, and the third annual PCI Geomatics User Group Meeting is presented by GISTEC, a professional GIS services company specializing in the development of intelligent, enterprise wide geospatial solutions for clients in a variety of disciplines and industries. The company has been a Master Distributor for PCI Geomatics in the Middle East since 2010. The User Group Meeting will be held at the Rashidiya Ballroom of the Al Bustan Rotana Hotel in Dubai, prior to the official opening of GISWORX '14.
Since the first Geomatica User Group Meeting, use of Geomatica software in the Middle East has grown significantly. The 2014 User Group Meeting will provide an update about the developments, innovations and roadmap for Geomatica software and the remote sensing industry. The meeting will also provide a forum to hear about success stories of Geomatica users.
"We are happy to be participating at the GISWORX event again this year," said Kevin Jones, Director of Marketing and Communications at PCI Geomatics. "GISTEC has done a remarkable job developing solutions for its customers in this region over the years, as evidenced by the year-over-year growth of the event as well as the Geomatica User Group Meeting."
This year's GISWORX 2014 event boasts more than 1,200 registrants, 40 exhibits and over 50 workshops.
For more information about the event, visit http://www.gisworx.ae/.
To learn about, and to register for, the Geomatica User Group Meeting, visit http://www.gisworx.ae/geomatica.
The PCI Geomatics infosite is located at http://www.pcigeomatics.com/