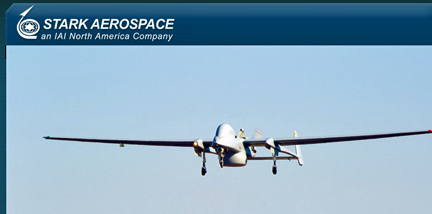 [SatNews] Stark Aerospace recently announced StarkLite 200, a high performance, multi-sensor, miniature electro-optical payload for sUAS (small Unmanned Aerial Systems).
The payload will be on display at the 2014 AUVSI Unmanned Systems exhibition, May 13-15 in Orlando, Florida, at the IAI North America, Booth #951. The payload provides enhanced image capabilities for mini-, and micro UAVs and other observation systems. By using innovative technology, StarkLite 200 matches the capabilities of bigger payloads in a very small package. It is small, light-weight, and robust with features previously available only on larger, more expensive payloads.
StarkLite 200 is a miniature, 2-axis gyro stabilized payload equipped with a visible camera, a thermal camera, a laser pointer and a 10MP still capability and has continuous zoom, LOS data measurement and multiple observation and tracking modes. StarkLite 200 is the latest addition to Stark Aerospace portfolio of high performance multi-sensor electro-optic payloads. It compliments Stark's current product line of payloads and meets a demand in the market for sUAS or hand launched UAS payloads.
The payload was developed by NextVision, an Israeli company with whom Stark has an agreement to market, produce and support the StarkLite 200 payload in the U.S. market.
There's additional information at the Stark Aerospace infosite located at http://starkaerospace.com/