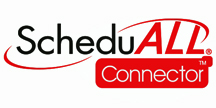 [SatNews] ScheduALL will showcase its booking platform, ScheduALL Connector™, at the 2014 NAB Show.
The smart technology behind ScheduALL Connector™ gives customers of transmission providers the tools to book their own bandwidth. ScheduALL Connector™ is a direct link for the Occasional Use (OU) business to its customers. The booking platform takes error-prone manual processes, duplicate efforts and conflicts out of the booking procedure. Furthermore, the tool provides a centralized view of a global resource network for both the provider and the customer, increasing revenue through maximized utilization.
"Connector is going to turn a lot of heads at NAB," said Rick Legow, president at ScheduALL. "We are giving our clients the capability to connect directly with their customers for instant access to resource booking. It vastly improves the way our clients do business with their customers."
A unique benefit of ScheduALL Connector™ is its potential to boost global sharing, trading and selling across the media and broadcast industry, and even create new partnerships within it. ScheduALL has built trusted partnerships for twenty-five years, and Connector unifies these companies in a global network.
The capabilities of ScheduALL Connector™ extend far beyond the needs of transmission providers. It unites ScheduALL systems across all types of media and broadcast enterprises, giving real-time availability and access to self-provisioning consumers of their providers' resource inventories.
Connect with ScheduALL at the 2014 NAB Show on stand #SU3021.
ScheduALL's infosite is located at http://www.scheduall.com/events