[SatNews] The regulatory and legal aspects of the SATCOM industry are a miasma of sometimes contradictory information, processes and requirements that are clouded in legalese and roadblocks constructed by various agencies that can mislead, delay and otherwise obstruct business needs.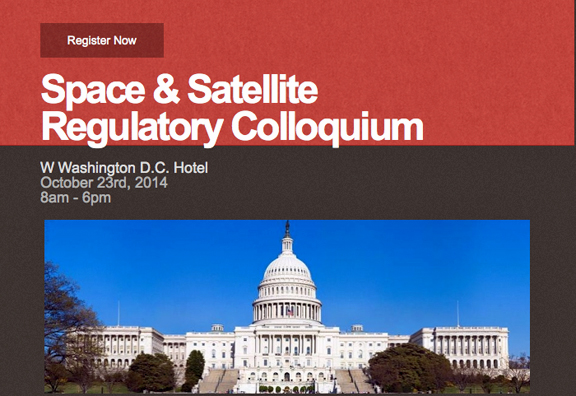 In cooperation with Mansat and Dentons US LLP, SatNews is going to present a highly informative, one-day Space and Satellite Regulatory Colloquium that will be focused on emerging space law and the myriad regulatory issues that face the U.S. and international government administrations. To be conducted at the W Washington Hotel in Washington D.C., the event is scheduled to start on 7:30 a.m. on October 23, 2014, with a breakfast, lunch and reception all provided to attendees. The colloquium will be in session until 5:30 p.m. At the close of the day, the reception will be held at the rooftop garden venue of the hotel. To register for this timely and crucially-needed event, please visit
http://www.satnews.com/space14.php
The agenda...
7:00-8:00 a.m.—REGISTRATION AND COFFEE

8:00-8:45 a.m.—WELCOME
Welcome: Elliott Portnoy, Global Chief Executive Officer, Dentons
Mike McNamara, US Managing Partner, Dentons
OPENING DIALOGUE
Welcome: Del Smith, Senior Space Business Counsel, Dentons DC
Chris Stott, Chairman & CEO, ManSat, Isle of Man
8:45-9:00 a.m.—COMMENTARY
"Major Regulatory issue ITAR - What's New"; presented by Giovanna Cinelli, Partner, Jones Day, Washington DC
9:00-10:00 a.m.—LEGAL AND REGULATORY ISSUES AFFECTING SATCOM SPECTRUM AVAILABILITY
MODERATOR: John P. Janka, Partner, Latham & Watkins, Washington DC
Panelist: Bruce Olcott, Jones Day, Washington DC
Panelist: Chris Murphy, Vice President, Government Affairs, Inmarsat
Panelist: Jennifer Manner, Vice President, Regulatory Affairs, Echostar
10:00-11:00 a.m.—THE SPACE LAUNCH INDUSTRY: REGULATION, CONSOLIDATION, OR FRAGMENTATION?
MODERATOR: Stephen Ganote, Principal, Avascent, Washington DC.
Panelist: Clayton Mowry, President, Arianespace, Inc., Washington, D.C.
Panelist: Tom Tshudy, Vice President and General Counsel, International Launch Services, Reston, Virginia
Panelist: Tim Hughes, General Councel, SpaceX, Los Angeles (Invited)
Panelist: John Sloan, Senior Space Policy Analyst and Program Lead for International Outreach, Federal Aviation Administration (FAA), Office of Commercial Space Transportation (AST)
11:00-11:15 a.m.—COFFEE AND NETWORKING
11:15-12:15 p.m.—SATELLITE FINANCE
MODERATOR: Elizabeth Evans, Dentons, New York
Panelist: J. Armand Musey, Goldin Associates, New York
Panelist: John Stone, Near Earth LLC
Panelist: James Murray, PJT Partners
Panelist: William Shuster
12:15-12:30 p.m.—COMMENTARY
Intentional Satellite Jamming and the Right of Anticipatory Self-defense; presented by Del Smith, Senior Space Business Council, Dentons, Washington DC
12:30-1:15 p.m.—LUNCH AND NETWORKING
1:15-2:15 p.m.—NGSO - Non-Geostationary Satellites—REGULATORY ENVIRONMENT
MODERATOR: Silvano Payne, Chairman and CEO, Satnews Publishers
Panelist: Mike Safyan, Planet Labs, Director of Launch and Regulatory Affairs
Panelist: Suzanne Malloy, Director Regulatory Affairs, O3B
2:15-3:30 p.m.—WARC - ARE WE READY
MODERATOR: David Hartshorn, Secretary General Global VSAT Forum
Panelist: Pamela Meredith, Zuckert Scoutt & Rasenberger, Washington DC
Panelist: Gonzalo de Dios, Assistant General Counsel, Intelsat
3:30-3:45 p.m.—COFFEE AND NETWORKING
3:45-5:00 p.m.—CONVERGENCE
MODERATOR: Christopher Stott, Chairman and CEO, ManSat
Panelist: Stefan Lopatkiewicz, General Counsel, Eutelsat America Corp.
Panelist: Randy Segal, Hogan Lovells, Washington, DC
Panelist: Sam Black, Director, Policy, Satellite Industry Association
Panelist: Brad Grady, Senior Analyst, Northern Skies Research, London & Washington
Panelist: Louis Zacharilla, Society of Satellite Professionals International
5:00-5:30 p.m.—FREE FOR ALL
A non-structured roundtable discussion, with observations on the day by the Colloquium Moderators to be followed by attendee commentary and debate.
5:30-7:00 p.m.—RECEPTION for all attendees.
ULTIMATE NETWORKING RECEPTION for all attendees on the roof top patio of the W Hotel, with views of the Washington Monument and the White House
To register for this enlightening event, please access http://www.satnews.com/space14.php
Note: Programed topics, speakers and/or times may be subject to change without any prior notice.