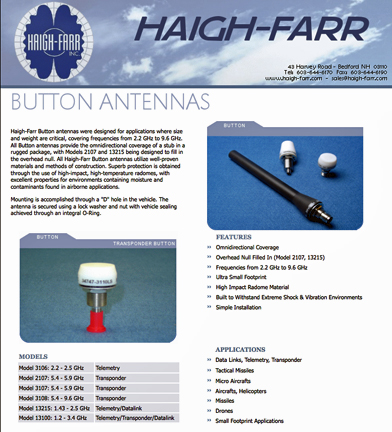 [SatNews] Haigh-Farr, a Business Unit within the Vitec Group is going to showcase a new Broadband Button Antenna (Model 13200) at AUVSI 2014, the Association for Unmanned Vehicle Systems International's Annual North American Symposium and Exposition (Booth 526).
This new offering is the latest addition to Haigh-Farr's complete line of Broadband Button and Blade Antennas.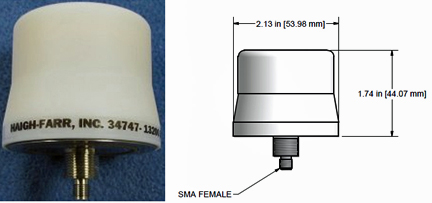 Model 13200 provides the omnidirectional coverage of a stub antenna in a rugged package, working over the 1.4 to 7.0GHz frequency range. It is designed using the same construction as Haigh-Farr's full line of Button Antennas, manufactured for applications where size and weight are critical. Haigh-Farr's Buttons use proven materials and methods of construction to provide a solid package requiring only one "D" hole installed in the vehicle for mounting. The use of a high-impact, high-temperature radome offers superb protection, with excellent properties in environments containing moisture and contaminants.

David Farr, CEO of Haigh-Farr, said, "We have called upon our extensive experience in designing and producing exceptionally rugged, high-performance antennas and antenna-related products, to create this new product. As the requirements of the antenna industry evolve, Haigh-Farr continues to provide innovative solutions that address the current needs of the marketplace."

If one of its standard antennas does not meet a customer's exact specifications, Haigh-Farr has the experience and modeling capability to customize a solution. The company can generate adaptations of existing designs with a very short amount of lead time.
To learn more, please visit http://www.haigh-farr.com/button.shtml