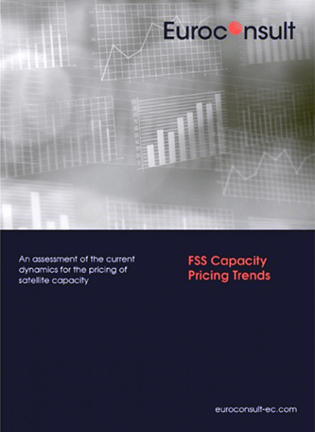 In the company's latest research titled, "FSS Capacity Pricing Trends, Euroconsult details pricing for traditional C-, Ku-band and High Throughput Satellite (HTS) capacity broken out by contracts, regions, spectrum bands, and applications.
This report shows that as the growth of satellite capacity on-orbit slows, pricing levels per megahertz (MHz) for regular capacity and per megabits per second (Mbps) for HTS capacity have both stabilized at lower rates of decline and are projected to continue that trend through 2020.
The research demonstrates that the market structure of the FSS industry remains concentrated at the top with growing fragmentation at the bottom. The top four operators (SES, Intelsat, Eutelsat and Telesat) today represent approximately 60 percent of the industry's revenue, a share that has decreased in recent years. Five years ago, they combined for 64 percent of total revenue. The landscape behind the top five is rapidly evolving with three new companies joining the top ten in the past five years. These include YahSat, China Satcom, and ISRO.
Based on hundreds of data points spanning nearly all segments, frequency bands, and regions, the report uncovered broadening price disparity. The report cites capacity pricing as low as $800 per MHz per month for data applications in regions such as Sub-Saharan Africa, Russia, and Central Asia, and notes market resilience with pricing remaining as high as $8,000 per MHz per month in important orbital hot spots for video broadcasting. While the cost per Mbps for HTS capacity has trended lower in the past 12 months, demand for high-quality HTS capacity in certain bands and regions has exceeded supply, enabling stable pricing in those markets.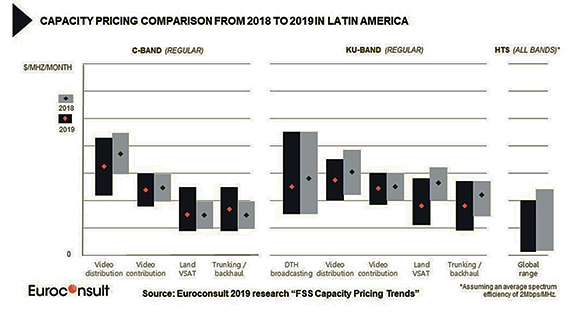 Euroconsult notes that the double-digit pricing declines that were observed in the years prior to 2018 are now rare and limited to several localized markets. However, the research firm projects that today's pricing stabilization is likely to be short-lived for data-oriented applications as a massive volume of attractively priced supply from Very High Throughput Satellites (VHTS) and Non-Geostationary-Satellite Orbit (NGSO) constellations currently under construction, is expected to enter service in 2021.
The research includes an analysis of how pricing parameters have evolved over the past 12 to 18 months and documents average and specific pricing data points. It includes a table with detail on more than ten actual satellite capacity lease contracts in the 2018 to 2019 time period and provides analysis of the factors impacting capacity pricing. The report also reviews the evolving cost of building and launching FSS, HTS and NGSO satellites.
Brent Prokosh, Senior Affiliate Consultant at Euroconsult, said the slowdown in supply growth has helped the market regain a certain degree of equilibrium, with demand growth also contributing to the stabilization of pricing conditions underway today. Pricing ranges remain highly dispersed, although convergence in pricing levels for regular Fixed Satellite Services (FSS) capacity and HTS bandwidth for data applications has been observed."
Pacome Révillon, CEO of Euroconsult, added that the most frequent questions that the company's analysts are asked relate to the cost of capacity. Rather than just providing anecdotal evidence, Euroconsult embarked on this in-depth research to delve into the details and more fully understand the changing dynamics of satellite capacity pricing. The report addresses the satellite bandwidth market with the perspective and authority that the industry has come to expect from Euroconsult.
Published for the first time last year, the second edition of the FSS Capacity Pricing Trends research includes new features and provides comparisons of pricing levels from 2018 to 2019. The report details pricing and trends in nine different regions based on research, satellite industry monitoring, and dozens of interviews with satellite operators, service providers and end users generating more than 300 pricing reference points. This offering separates the military and mobility markets and also breaks down mobility into maritime and aviation categories. FSS Capacity Pricing Trends is available now and can be ordered from the Euroconsult shop.