Two Leos. One is LeoLabs which has just closed a $13 million Series A financing round led by global investors WERU Investment and Airbus Ventures, and other investors participating in the round include Space Angels and Horizons Ventures. LeoLabs is working to protect the other LEO (Low Earth Orbit) by using next-generation radars for tracking small debris and satellites in low Earth orbit (LEO), and accelerating development of its ground-breaking LEO mapping and SSA platform.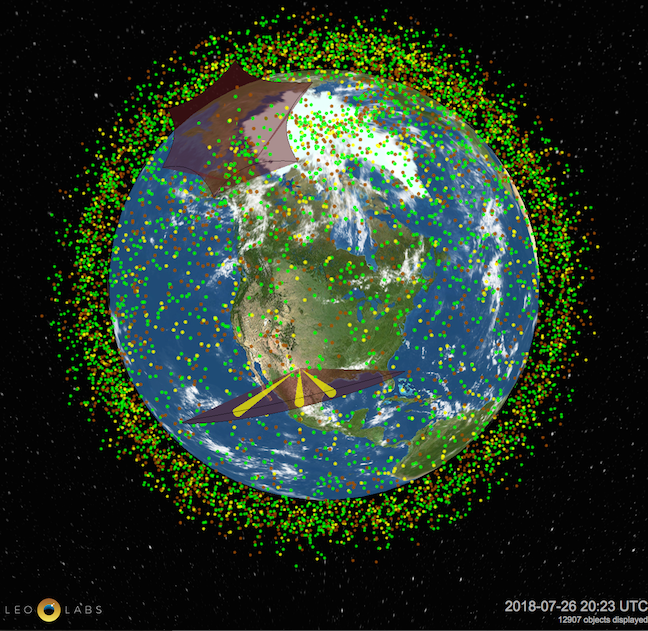 Low Earth Orbit is emerging as the commercial frontier in space with new constellations and thousands of satellites, innovative services from imaging to broadband to IoT, and billions of dollars pouring into LEO all reveal a future with unlimited opportunities. These generational changes are transforming LEO into a dynamic ecosystem shared by governments, space agencies, regulators, commercial operators and risk management firms.
With this new growth in LEO there is also a new generation of risks, the greatest of which is the threat of space debris. Approximately 250,000 dangerous pieces of orbital debris remain untracked in LEO and threaten satellite constellations. In addition to operational risks, the dramatic increase in traffic makes a challenge to traditional SSA and regulatory practices. The long term preservation of the entire LEO ecosystem requires a solution.
Dan Ceperley, LeoLabs CEO stated that LeoLabs is stepping up to address both the opportunities and risks in LEO. Their mission is clear: inform, serve and protect LEO. They do this on two fronts, by providing the foundational data for tracking and characterizing objects in LEO, including small debris, and by making this commercial data accessible to the LEO community through their published API and platform. Their funding announcement today is a tangible endorsement of this approach. With LeoLabs, developers and operations professionals can rest assured they have chosen a capable and sustainable platform that is generating the best data available. This is a huge step forward.
Dr. Tadashi Takiguchi, President and CEO of WERU Investment added that WERU Investments, based in Tokyo, joins LeoLabs in endorsing a global approach to the next wave of LEO growth. Since their founding two decades ago, WERU pioneered a strategy of investing in frontier technology and applying that to commercial markets. LeoLabs' impressive platform vision and deep radar expertise are perfectly timed to address the space debris problem in LEO. There is a universal need for more data among the global space community, and they believe LeoLabs will play a pivotal role in preserving LEO for future generations.
Julien Etaix, Investment Partner at Airbus Ventures in Menlo Park, California concluded that they are excited about LeoLabs' vision and the progress they've made on both the radar network and the SSA platform. And, as new mega-constellations come online in 2019 and new generations of operational and AI-based tools are required, LeoLabs is well-positioned as the logical foundation to serve all these activities.
LeoLabs' platform for developers and operators is available on a trial basis. The latest space traffic is shown at .