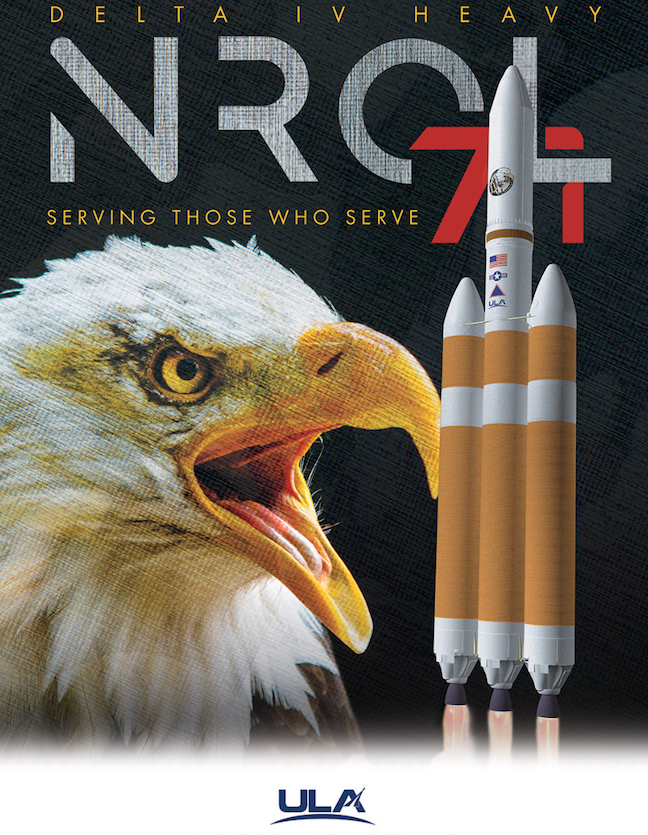 Weather was the deciding factor today that determined a no-go...
(Vandenberg Air Force Base, California, December 18, 2018) – The launch of a United Launch Alliance Delta IV Heavy carrying the NROL-71 payload for the National Reconnaissance Office was scrubbed today due to high ground winds.
The next launch attempt is planned for Wednesday, December 19, from Space Launch Complex-6 at Vandenberg Air Force Base, California. The forecast indicates an 80 percent chance of favorable weather conditions for launch. The targeted launch time is 5:44 p.m. PST.
Launch Forecast Summary:
Overall probability of violating weather constraints: 20 percent
Primary concerns: Ground Winds
The NRO is a joint Department of Defense-Intelligence Community organization responsible for developing, launching and operating America's intelligence satellites to meet the national security needs of the United States.
United Launch Alliance's Delta IV rocket has served the nation's high-priority U.S. Air Force and National Reconnaissance Office space programs with distinction since entering service in 2002.
The vehicle also launched NASA's Orion capsule on its first orbital test flight and sent the Parker Solar Probe on its journey to become the fastest robot in history while surfing through the sun's atmosphere. Having flown 37 missions in a variety of configurations ranging from medium-lift to heavy-lifter, the Delta IV continues the legacy of the Delta rocket family that dates to 1960.
NROL-71 will launch aboard a Delta IV Heavy rocket features three hydrogen-fueled common booster coresand a Delta Cryogenic Second Stage. The payload is protected during atmospheric ascent by a composite payload fairing.
Webcast available at
ULA states they are the nation's most experienced space launch company with more than 120 consecutive launches and a 100 percent mission success rate. ULA brings the utmost precision, passion and purpose to one of the most technically complex, critical American needs: affordable, reliable access to space.