Please note that SatNews no longer provides the product or products listed on this page. If you have any questions please call 707-939-9306
The 2017 International Satellite Directory - Pre-Publication Discount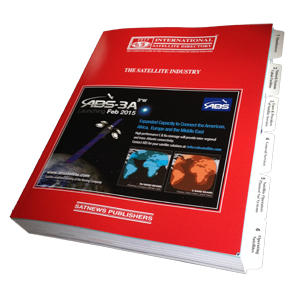 The Complete Guide To The Commercial Satellite Communications Industry
Updated annually with over 25,000 entries, this best selling 900 plus page reference source is a must for all satellite professionals. Includes online access to over 850 EIRP, G/T and SFD maps in full color.
Price: $495.00 - $50.00 = $445.00 + S/H
Searching for Satellite Data? - Opening up new markets? - Finding new customers? - Analyzing the competition? Or do you just need that one last detail? Whether you are using, or need to be using "
THE INTERNATIONAL SATELLITE DIRECTORY
," our 32
nd
edition will certainly meet expectations!
The Directory is a comprehensive guide to the people, companies, products, services and the market of the booming 100 billion dollar satellite industry. With changes of all kinds affecting this dynamic industry, the Directory remains a powerful tool, mapping in detail an otherwise uncharted and complex segment of modern communications.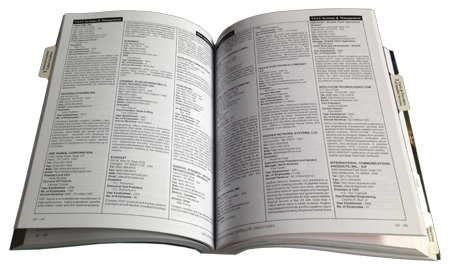 The Directory supplies detailed research, giving you the facts and figures you need.
The names and titles of key personnel, their addresses, telephone numbers, fax numbers and e-mail addresses are provided. Included in company descriptions are statistical data and detailed information about products and services. Everything you need to either mount a marketing campaign or to satisfy a purchasing need is contained in the Directory.
The Directory also serves you in two other important ways:
1. Discover new and perhaps better sources of supply for the products and services you now use.
2. Alert you to new products and services you've never used before, creating opportunity to diversify, expand and improve your performance.
Now Offering Our 32nd Edition
CONTENTS
International Agencies
- lists all regulators and PTTs and provides statistics and information on each country including its satellite and video standards.
Click here for a sample
Manufacturers of Satellites and Space Equipment
- over 1,400 manufacturers of every conceivable satellite and space component, including information on launch services.
Manufacturers of Satellite Ground Equipment
- lists all the earth station equipment in both the commercial and consumer satellite markets.
Click here for a sample
Network Systems
- internet service providers and other ground systems networks including VSAT systems, business networks and video-conferencing providers.
PC-Satellite Connectivity
- internet via satellite providers and manufacturers of equipment plus a list of web addresses of satellite companies.
Users of Satellite Systems
- satellite programmers, worldwide broadcasters, ISPs and cable systems.
Providers of Satellite Services
- distributors of hardware, transmission services, transponder brokers and providers of video, voice and data services.
General Services
- technical and consulting services, associations, legal services, insurance brokers, research centers, financial institutions, technical training services and publishers.
Click here for a sample
NO RISK GUARANTEE!
We firmly believe that the International Satellite Directory will be so invaluable to you that we guarantee it. Use the Directory and if you are not totally satisfied, simply return it to us within 21 days of receipt for a full prompt refund.

Satellite Operators
- full details on every system operator worldwide. Full details on satellites; either operational, under construction or planned.
Click here for a sample
Geosynchronous Satellites
- over 500 satellites analyzed with full details on over 50 variables per satellite.
Click here for a sample
EIRP Maps (online access)
- invaluable EIRP, SFD & G/T maps giving essential engineering and technical information in color on SatMaps Online.
Click here for a sample
Uplink Facilities
- location and contact information of earth stations worldwide that provide uplink and other transmit and receive services.
Click here for a sample
Buyer's Guide and Index
- a full, comprehensive listing of every company and satellite worldwide.
Click here for a sample
---
The INTERNATIONAL SATELLITE DIRECTORY is the most powerful connection for decision makers looking for ways to maximize productivity and profits - It is the
must have
reference source of the year.
"The MOST USED book in our library..."
- - Librarian - INTELSAT - Worldwide Satellite Operator
"The ONLY Satellite Directory in our library......."
- - Librarian - INTERNATIONAL TELECOMMUNICATIONS UNION - Geneva, Switzerland - Worldwide Satellite Regulator
---
Who Should Buy This Directory Set . . .
Satellite Owners
Satellite Operators
Equipment Manufacturers
Distributors
Programmers
Broadcasters
Cable TV Licensees and Operators
Government Officials
Military Space Executives
Wireless Cable Operators
DTH Executives
CEOs, CIOs and Technical Specialists from Industrial and Service Companies
MSO Executives
Pay TV System Installers, Builders and Distributors
Public Utility Executives
Brokers, Venture Capitalists, Investors
Exporters and Importers of Equipment
Consultants
Internet Service Providers
Users of Satellites
Providers of Satellite Services
In fact - anyone who is involved in the satellite industry . . .
---
For more information call SatNews Publishers at: Tel: (707) 939-9306 Fax: (707) 939-9235 or you can also reach us by e-mail at
orders@satnews.com